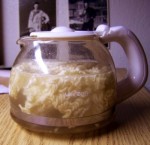 Sure, you can cook a squirrel in a popcorn popper, but those really aren't that common since the advent of microwave popcorn.
Max Eddy of
Geekosystem
has a more practical guide for you: how to cook food in a coffee pot.
He has links to instructions and recipes including lemon pepper chicken, chicken pesto pasta, and fish steaks.